¶ Welcome to UO Strange Earth Wiki, a very retro, and fresh shard!
Our passion for creating a nostalgic UO shard but with modern day creature comforts has been in the makings since 2020. I am honored to announce that this shard is now open to the public as a Beta. Beta? An early version that contains most of the major features, but not all of the milestones are completed.
We are currently running with 1080 Skill caps with stats capped at 350 (150 being the highest per stat). Due to the retro feel, we encourage adventures to take up 2 accounts max.
Your adventure awaits! Client connection information can be found here.
Our staff is constantly hard at work and are pretty laid back. Shard is full of all sorts of goodies. You just never know what they might publish next.
This is not your traditional wiki. On the left menu you have core icons but should you wish to go exploring, I recommend switching to the folder view. There is also a global search box at the top of this wiki which also does a pretty good job.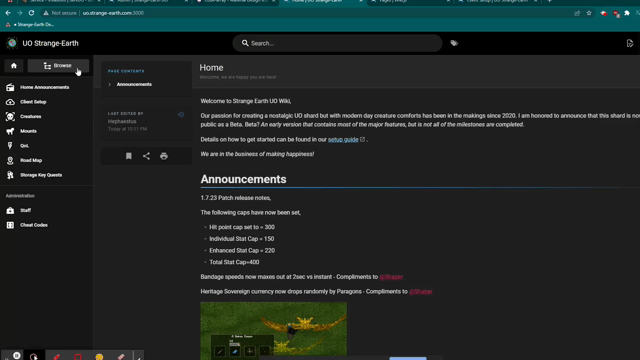 Get ready for some exciting updates to enhance your gameplay experience!
We're thrilled to announce that we're bringing some major changes to the drops in-game. From now on, dragon claws will be dropping in place of the Essenceofdragonflames. Not only does this make them stackable, but it also makes room for new exciting possibilities! And don't worry, all past Essenceofdragonflames drops will remain in-game as art decor, so you can still appreciate their beauty.
As if that wasn't exciting enough, we're also introducing a brand new custom mini champ spawn for MastersOfArts. The location is currently located in both the lands of Trammel and Felucca , so get ready to explore and embark on a thrilling adventure!
We understand how tedious crafting can be, so we're introducing a new feature that dynamically pulls resources from storage keys when available. This will save you time and effort, so you can focus on what you do best - crafting and creating!
And last but not least, we've finally managed to patch the back-end spawner bug that was causing headaches for our staff. So now we can all breathe a sigh of relief and enjoy the game even more!
Stay tuned for more exciting updates, including the highly anticipated Taming bulk order deeds! And if you wish to exchange your past Essenceofdragonflames for the new stackable dragon claw, simply visit the Luna bank exchange stones.
Break down of additional changes that went into effect,
Shard is now available to play on through ClassicUO's web client.
Dye Hue Room has been opened (subject to change as our Dev's acquire more free time to spice it up).
Be sure to visit Luna's stables should you ever find yourself with a dead pet (and no skill to resurrect it).
I added a line item to the Credits screen as its related to the masterlootbag. You can now see at a glance your bag and bank balance.
Wild Tigers once tamed can now be ridden
45day house placement restriction zones have now been lowered to 30days
Power scrolls now need to be consumed in order 105 --> 110 --> 115 --> 220
Remember Berries located in the Yew vineyard (comical relief only)
Skill cap raised from 920 to 1080 (or 9x GM skills)
Black Sheep have been increased from 10 to 25; spawn location also increased.
Chance to drop: 105 Power scrolls will now directly spawn in your backpack when killing any champ spawn
Scribes key and some other smaller level keys have now been added to the buy list for their corresponding NPC vendor.
The ore drops from Gargoyle summoned elementals are now automatically upgraded to be always the largest size
Adventure's boots has been added to random dungeon chests.
The command [keyguard has now been enabled and will add text to the item targeted letting you know the status at a glance
Lesser bag of holding has been added to the Strange-Weightless Egg found in Luna's bank
Bulk Order Deed book: Now holds 5000 deeds instead of 500
Bulk Order Deed book: item count in your bag for 2 instead of per each deed.
[resme command: Now has been calibrated to supply 30 seconds of invulnerability + full health
House decay: Calibrated to be 1 year of no activity before collapsing
Remember berries: Something silly I made (check it out in the yew vineyard)
New Haven: Calibrated to be the new starting place for all new adventures
Powerhour: Gold increase factor increased from 0 to 25%
Powerhour: Skill gain increase factor decreased from 75000% to 75%
Enhancements!
Wiki has been expanded from 12 pages to 40. Adding more constantly.
Shard is now running the latest release offered by the ServUO community. This now means there is more UO store content which can be purchased with Sovereigns, server side stability, and possibly even more unknown content floating around 😄.
idoc Detector located inside luna bank the house will change colors indicating if a house is in danger of collapsing.
!!New Area Added!! New Haven Training Area
This area will have new additions as time goes on and is located behind new haven bank in the cavern cave.
The Lockpick training boxes are being moved there, located in the back of the cave is training elementals for players and pets along with weapons to train up skills.
Be sure to run our custom patcher before visiting this new area.
New Items
Master Loot Bag: Newly added item. Each adventure will get one upon logging in. (Replacing the loot bag & Replacing the Gold Ledger)
Trash Keg (replaced the trash bag)
Pet Brushes purchasable from any animal trainer, can be used to afk gain animal taming in the safety of town.
Strange Weightless Dirt our version of the kudos gain 1 per hour your logged in.
Ripped Pages - monsters have been located carrying strange pieces of parchment.
Book Of Mythical Recipes have been introduced.
Pristine Dragon Scales Red/Gold/Black/White/Green/Blue
Hauberks have been introduced.
Gragish Hauberks have been introduced.
Dragon scale boots and cloaks have been introduced.
Lesser,Normal,Greater,Supreme and Legendary Magical Oils have been added.
Padding has been added.
Magical Threads have been added.
New Obtainable items
Balron Liver
Bottled Imp Sweat
Elemental Soul
Essence of Dragon Flame
Eye of Ancient Wyrm
Peerless Essence
Solen Queen Gland
Vial of Champion Blood
Vial of Dread Spider Venom
Vial of Quicksilver
New Npcs
Morella the Black Witch located in felucca only has been introduced.
New Craft System
Mythical Crafting, can craft the tool from inscriptions to begin crafting.
New tool bench located at luna forge
New Commands added
Bug Fixes
[Powerhour fixed (previously Powerhour was not working as expected, it is now)
Lock Pick Trainer now allows skill gain up to 100.
GoldLedger (NOT FIXED) but instead being replaced with the Master Loot bag. Please empty out your gold ledgers and throw them away. This will help our dev team out greatly.
The following caps have now been set,
Hit point cap set to = 300
Individual Stat Cap = 150
Enhanced Stat Cap = 220
Total Stat Cap=400
Bandage speeds now maxes out at 2sec vs instant - Compliments to @Shaper
Heritage Sovereign currency now drops randomly by Paragons - Compliments to @Shaper
Something cool is also on its way ^^
---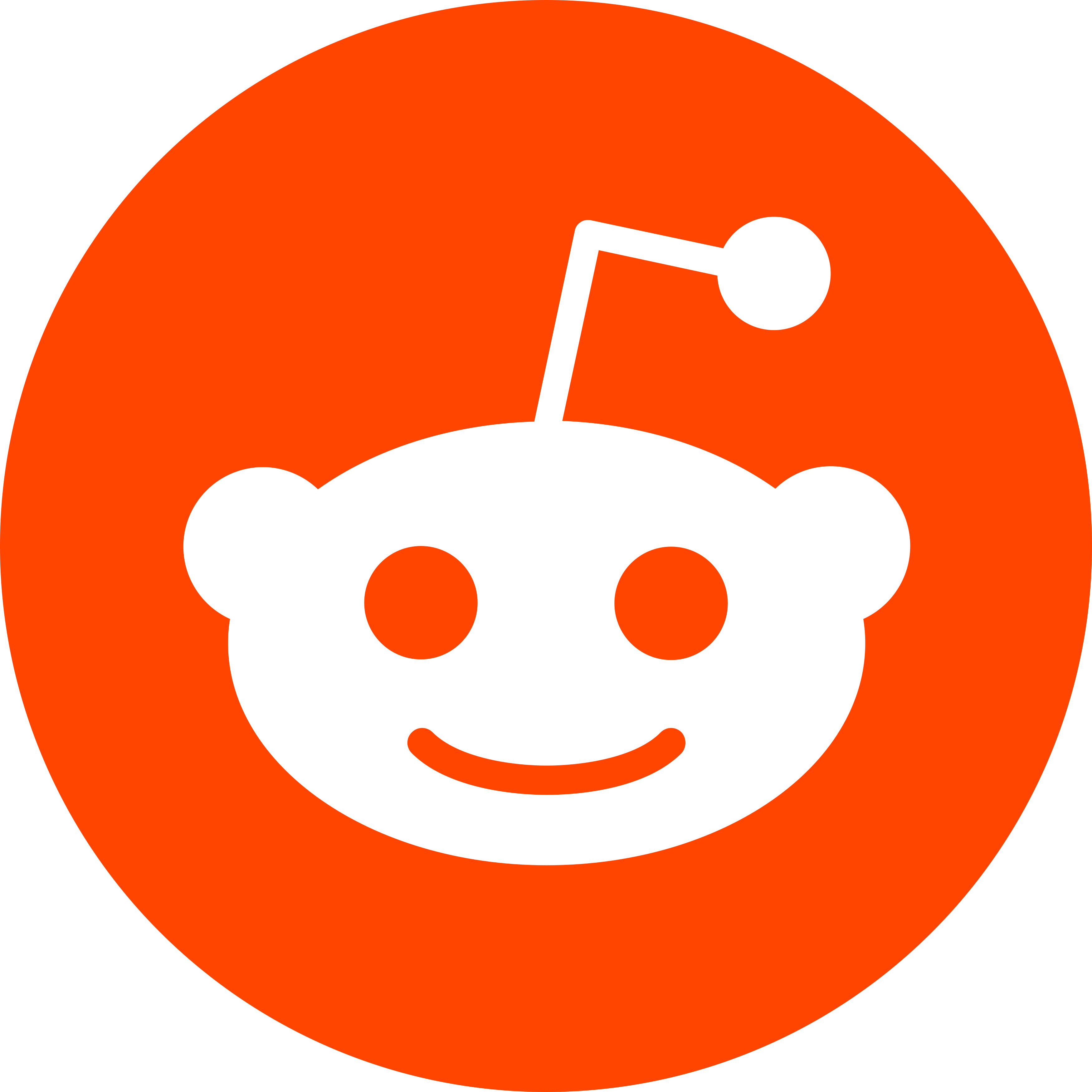 ---