Strange Earth Shard is now playable through ClassicUO's web client. The fist time loading will take a while due to the game being downloaded in the background. Returning visits however should load much faster. Shoutout to @Blank for helping us make this connection!
At UOSE, we take pride in our extensive collection of custom files that enhance your gaming experience. However, updating these files for our players has been a bit of a burden. But fret no more! Our latest release, the UOSE 2.0 Client Patcher, is here to make your life easier.
This custom patcher comes packed with a range of exciting features. You can download it separately or as part of our convenient Client patcher bundle.
Steps on how to get started (Youtube walkthrough),
1. To get a jump start, navigate on over to our google share, right click on "UOSE Client.zip", and select "Download".
2. This bundle is to large for google's anti virus to scan. Click on "Download Anyway" when you see this popup.
3. Select the down arrow next to the download in progress and click on "Show in folder"
4. Extract this zip bundle to any location on your computer, then locate "UO SE Client Patcher.exe". Right click on this .exe and choose "Properties".
5. Toggle over to the tab label "Compatibility", check the box labeled "Run this program as an administrator" , then click on "apply" to save.
6. You are now in the clear to circle back to the UO SE Client Patcher.exe and double click it/launch it.
Note: To prevent patching troubles, the patcher will look for and ask you to close out of any UO clients that are still running in the background.
7. The path listed should auto populate and be pointing to our custom UO Files folder. However if your custom files folder has been renamed or is located elsewhere, press the browse folders button and target it.
8. Press "Start Patch'n" to kick off the magic. This app will now hunt for missing and outdated files. Found discrepancies are then addressed automatically ;)
9. Seeing this message followed by a green "Exit Program" button means that you have successfully patched!
haha got your attention with that header no? Good news! We programmed this patcher to patch itself, meaning that you will always have the latest and greatest!
Caution! There is no loading bar for this function, it just runs silently in the background. The patcher is also roughly 30 mb's so give this up to 30 seconds before kicking off more troubleshooting. Once successful you will be greeted with a message like the one below
The client patcher also has the version now dynamically listed in the header. Can't 'miss it.
¶ How to setup ClassicUO and get into the shard
1. Double click on "ClassicUOLauncher.exe"

2. Click on "Create your first profile!"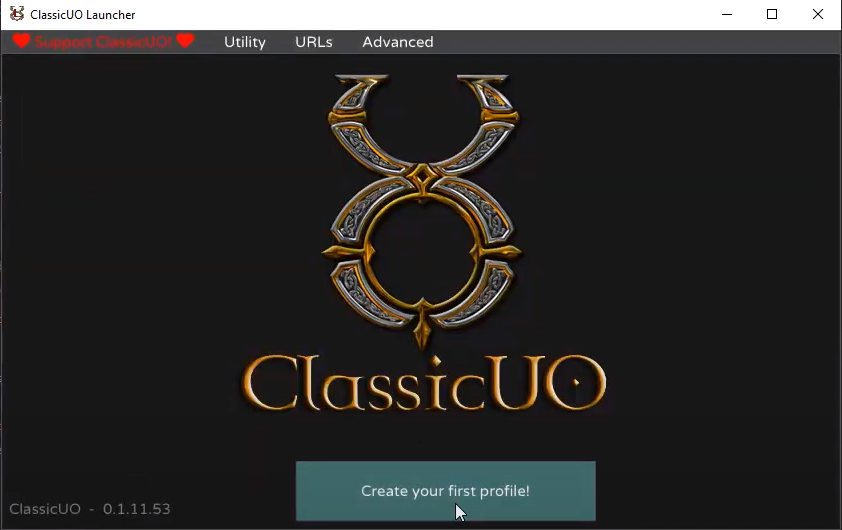 3. Click on Add, then populate the following fields,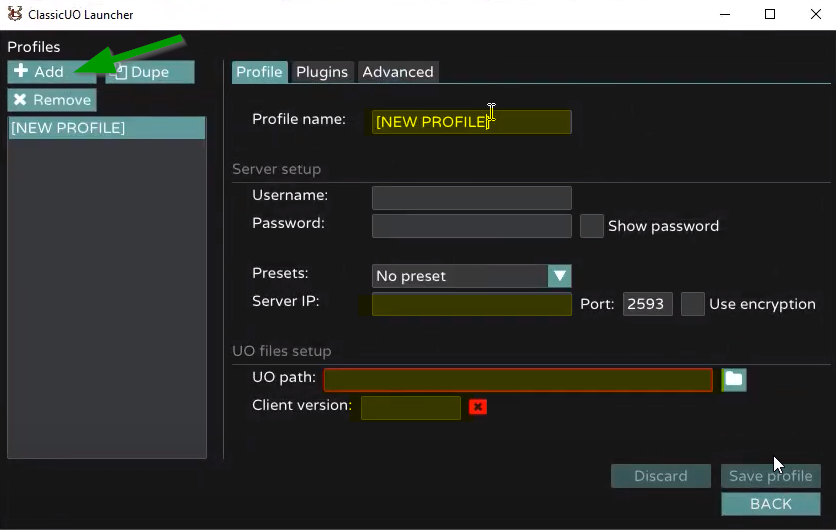 Profile name: SEUO (this is flexible)

Server IP: Strange-Earth.com

Port: 2593

UO Path: C:\Path\to\UOSE Client\UO files

CAUTION: Your path might differ if you choose a different folder to install the client

Client Version: 7.0.97.25

Click on "Save Profile" and the back button

Now the play button is clickable and will route you to the login page
4. It should look something like this,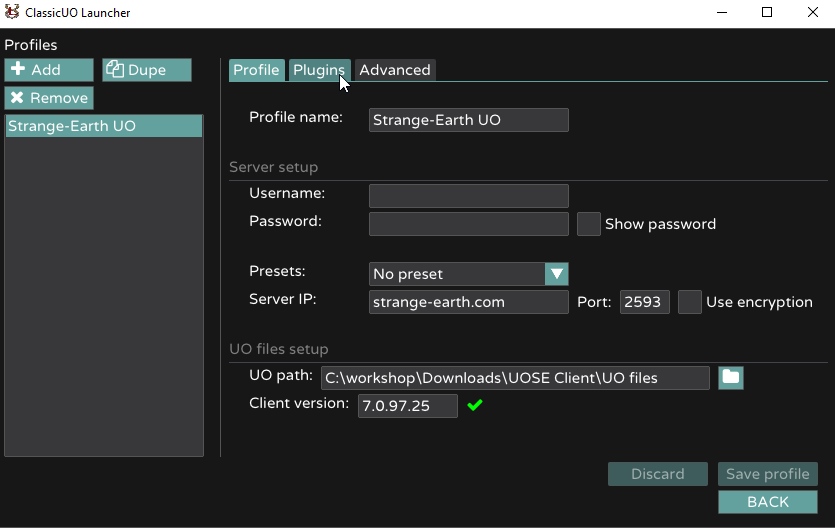 5. Toggle over to the Plugins tab, enable Razor by checking the box, press save profile, and then BACK.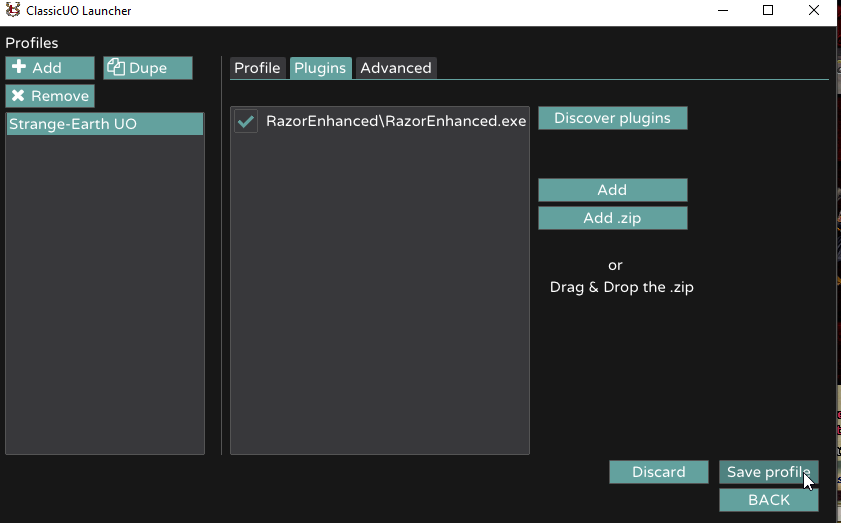 6. Your main ClassicUO page will now show a play button. Pressing this will launch the game and the razor plugin.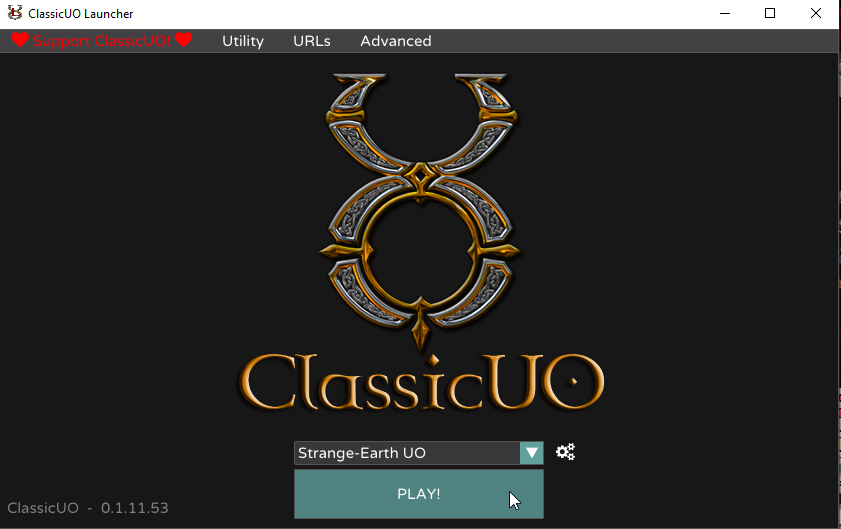 7. First time enrollment is as simple as filling in the desired username and password you wish to use. Make note of what you created, recovering lost accounts requires assistance from staff.
RazorEnhanced is a scripting tool that offers a wide range of specialized functions. The quality of life features aside, this tool does not come enabled by default. Below are steps on how to enable RazorEnhanced.
At ClassicUO's start screen select the Gear icon.
2. Select the profile you wish to edit, toggle to the profiles plugin tab, check the box next to "RazorEnhanced"
3. Lastly press the Save Profile and Back button.
RazorEnhanced will now launch automatically the next time you login.